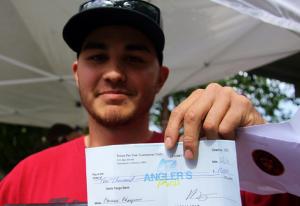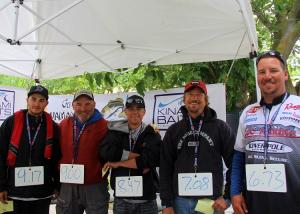 3rd Annual event shatters previous participation mark and delivers biggest payout ever
BETHEL ISLAND, Ca
. - The 3rd annual Yamamoto Big Bass Challenge held on the California Delta at Russo's Marina, was a huge success as a record field of 325 turned out to get their share of the over $30,000 in cash that was awarded to those catching a single big bass during the 2-day event.
Strong, gusty winds prevailed on the first day, which limited many anglers from running to areas that required long runs, but solid, healthy large mouth bass in the 5.5 to 7.5 pound range were the norm for those who were successful in grabbing one of the thirty cash awards presented to the field that day.
Day two was a weather "grab bag" as strong winds prevailed at the 4am check-in, but subsided by 6am, followed by hours of dead calm, followed by shower bursts, then followed by warm overcast skies. That variation of conditions either triggered the big bass to bite, or allowed participants to run to better areas as day two saw even bigger fish come to the scales that topped 11 pounds!
When all was said and done, the overall big fish of the event was an 11.56 pound giant, caught by
Luke Ellison
, which earned him the overall big fish trophy and a cool
$3,000 dollar
s, while
Derek Dagneau
, left the event
$10,000 richer
as he successfully picked the right envelope in the dramatic "Super 12" draw.
The large crowd that stayed around to watch the "Super 12" draw broke out in both laughter and cheers as when Derek was asked how he felt about winning $10,000 thousand dollars replied… "I don't know how to feel right now….I'm a starving college student…I've never seen $1,000 let alone $10,000"!
This was a great event, and on behalf of Yamamoto and Kinami baits, we sincerely thank everyone for their support and participation as Angler's Press looks forward to bringing it back to the California delta once again in 2014.
Meanwhile, go out and get some Yamamoto or Kinami product and start practicing NOW for next year!
For those of you that don't know, this was the first qualifying event in the Coors Light Delta Open Teams Series, and as such qualifies the top overall 25 big fish winners of the event for a spot in the first-ever
Coors Light Delta Open Teams Series Championship
where only 100 teams will fish for a new vehicle in June of 2014 right here on the California delta.
The next event in the Coors Light Delta Open Teams Series that will allow anglers to qualify for the inaugural championship event will be the
2013 Snag Proof Open - presented by Gone Fishing Marine
, which will be held
Aug 3rd and 4th on the California Delta at Russo's Marina.
The
top 25
teams in the Pro division as well as the
top 15
teams in the Am division will each receive a spot in the exciting Coors Light Delta Open Teams Championship.
The
top 25 qualifiers
from this event for the
Coors Light Delta Open Teams Series Championship
are:
1 Luke Ellison 11.56
2 Robert Jones 9.55
3 Derek Dagneau 9.17
4 Bobby Barrack 9
5 Ronnie VanArsdale 8.6
6 Nick Abaro 8.47
7 Stacy Gee 7.98
8 Eric Hawkins 7.88
9 Gary Gottschall 7.74
10 Matt Van Sloten 7.54
11 Tom Shores 7.54
12 David Ritche 7.52
13 Mike Nuzum 7.52
14 Clyde Livingston 7.45
15 Firuz Gizatullin 7.43
16 Alfonso Orozco 7.27
17 Steve Newton 7.26
18 Rob Riehl 7.23
19 Matt Latino 7.22
20 Jim Larosa 7.12
21 Billy Davis 7.1
22 Rocky Cha 7.09
23 Dave Langendorff 7.08
24 Brian Johnson 7.07
25 David Schlander 6.92
See you all at the Snag Proof Open!
Angler's Press
http://www.anglerspress.com
916.768.0938