OK so the questions was asked about knock off senkos so here is some basics.
There is no shortage of knock offs on the market, each with their own style or use.
First off there is the Yum Dinger...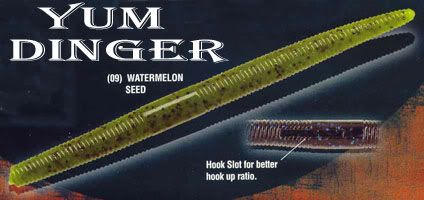 Yum makes many quality products and the Dinger is one of them. The Dinger design offers a hook slot for weedless Texas Rigging which is not offered by Yamamoto. Another major difference is the rate of fall. The Dinger falls SLOW at about half the rate of a Senko. Try fishing this one Texas Rigged with a light (1/8 or 1/16) weight.
Next is the BPS Stick-O..
As many fisherman know BPS makes knock offs or slightly modified baits from most all manufactors. Many of them are just an imitation of a better bait. The Stick-O however offers something that Yamamoto does not and that is that it is scented with anise. The Stick-O is a little thinner than a Senko but the heavy salt and anise add the weight back for castability. You can cast the Stick-O a mile and it holds up well (better than a Senko) when fished wacky. Thier color selection is good but you may find from package to package slight differences in the colors, so shop carefully.
And last the Berkley Gulp Sinking Minnow..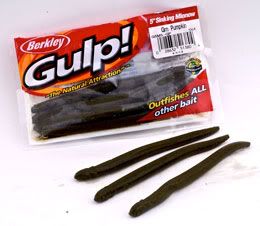 Berkley makes a ton of quality products and is one of the biggest companies out there when it comes to bass fishing products. Their Gulp Sinking Minnow however in MHO is not one of their best. The plastic is hard and does not slide well on the hook. The stiffness of the bait does not allow it to wiggle on the fall it just sinks like a rock. This bait is also prone to drying out and turning into a rock on your hook. The sink rate is good but the bait just does not perform to the standards of the other Senko Style baits out there.