One of the things I see a lot on peoples screen shots and also while training people is how and when to adjust the sensitivity of their unit so that they can utilize the unit to it's full capacity.
If you have read the basic settings sticky you notice I say deeper water you need more sensitivity and shallow water less sensitivity for your unit. I am going to build upon that.
Sensitivity to me means to tell the unit to "look harder" "increase output" "increase power". You can over do it and you can not do it enough. If you use too much sensitivity in shallow water your screen will be cluttered with junk. If you don't use enough sensitivity you will miss intricate details. If your spoon fishing and you need to see something as small as 1/4 oz you need to crank it up to pick up something small like a spoon.
Doug made an outstanding post illustrating the effects of sensitivity using sonar. So I am not going to reinvent the wheel here but it's worth reading again.
http://www.bbcboards.net/zerothread?id=557919
I'm going to list the images Doug took here to explain. I ALWAYS like a little bit of clutter in my sonar images. This insures that I am getting every bit of detail that I can possibly get out of my unit.
Humminbird Switchfire MAX Mode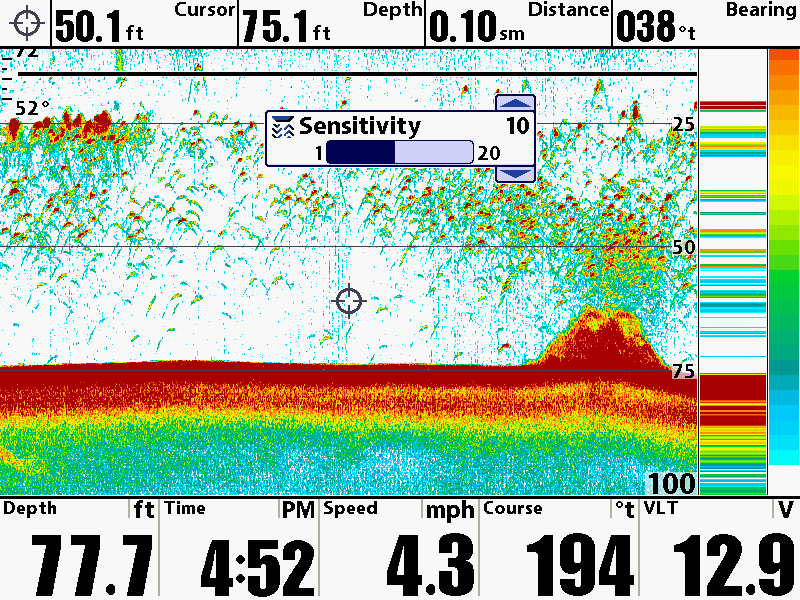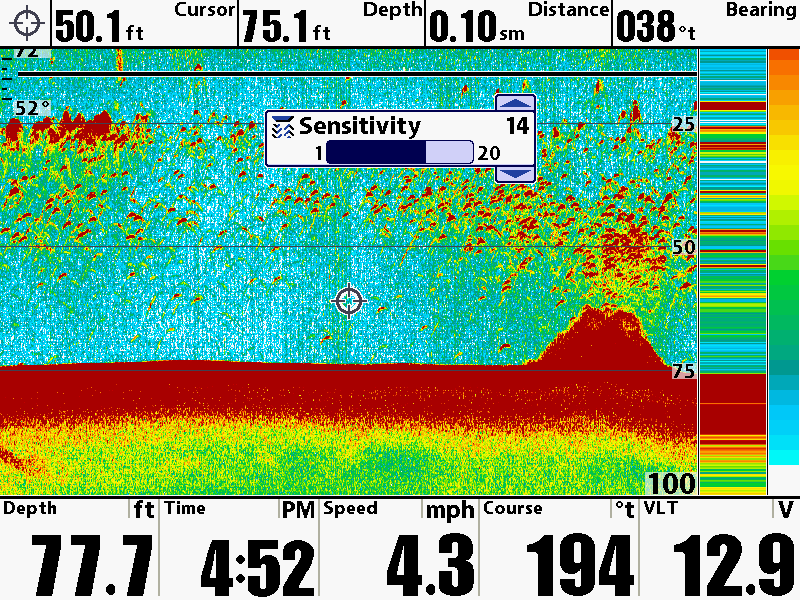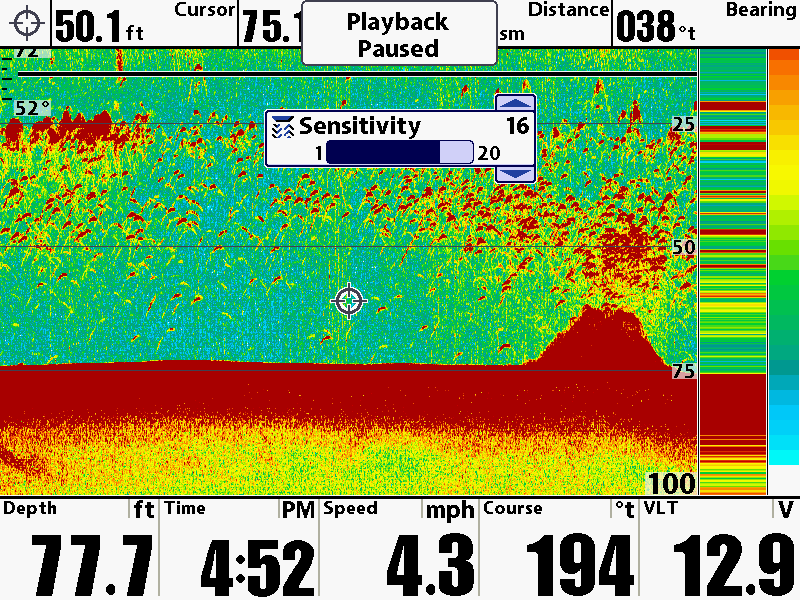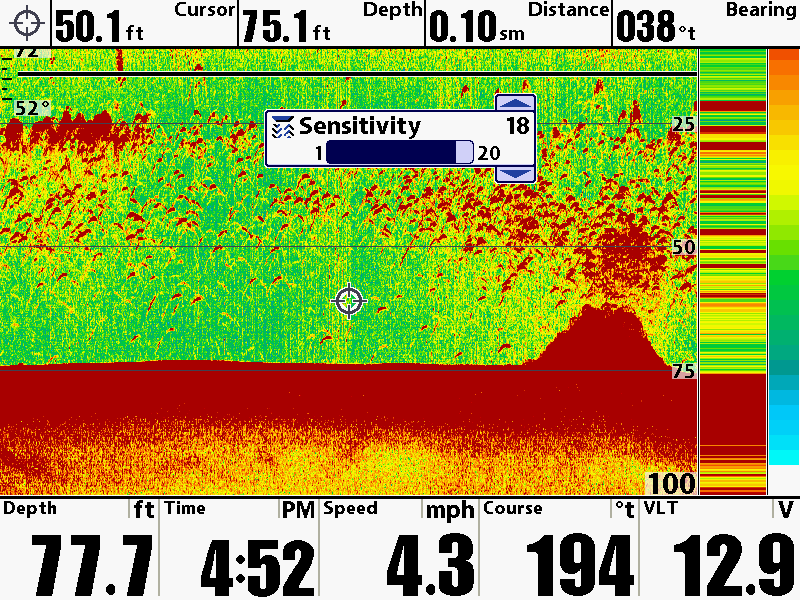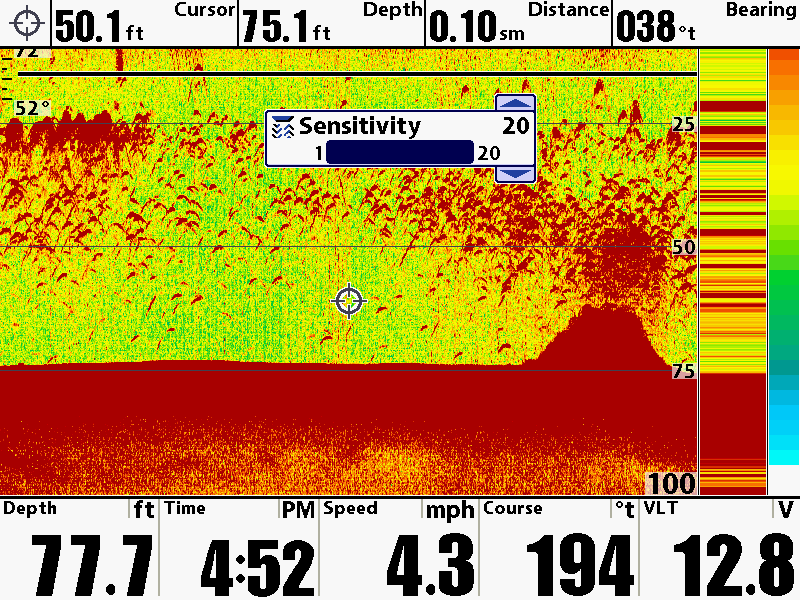 To me the optimum sensitivity setting for the Split fire MAX is sensitivity 10 or 12 if you look at Dougs images above. If your sensitivity is on 8 your losing some arches and some appear faint in his images if your on 14 you've got more clutter than you need. Maybe 11 would be just right but honestly at 10 or 12 you got the full capacity of your unit at that particular depth. If your arches aren't complete like in the images with sensitivity set at 8 or lower, chances are you need to increase your sensitivity to get them to hook better, either that or your fish is on the side of the beam.
My advice to you in setting your sensitivity is when you are out on the water. Turn your sensitivity all the way up.. Then crank it down until the
screen clutter
looks like the images above with sensitivity settings at 10 or 12.. This goes for BOTH split fire max and clear. I set my unit by screen clutter 90% of the time. I want "SOME" screen clutter on my screen so I know I am getting max capability.
For Deep spoon fishing you might need to go 14 plus. The image below shows exactly how sensitivity affects your ability to see your spoon. Notice how the spoon is a little faint at 220ft and much better at 150 at 14 sensitivity.. It's sufficient but it could be improved upon. I could crank my sensitivity up to about 18 and prolly be in great shape in this image but notice I have ZERO screen clutter. That to me is a sign that your unit could see more than what it's showing. This proves my point that deeper shots require more sensitivity to be able to see things more clearly since the spoon is somewhat faint at 220ft but much better at 150ish.
Here is a prime example of using sensitivity on SI. Take note of the depth (2.2ft). then take note of the Beam width (202ft, 404 feet total coverage) To put things in perspective I'm covering beyond an entire football field here easily. Then take note of the Sensitivity (maxed out at 20). To be able to see 200ft plus to the side of the boat in very shallow water notice how I am able to MAX OUT sensitivity and still get a good picture and not be blown out (overly white). Kinda like high beams while driving your car out in the desert. You want to be able to see as far out as you can so high beams aka max sensitivity is what you want in this situation which for a lot of people would be a rare situation but I did this to prove a point.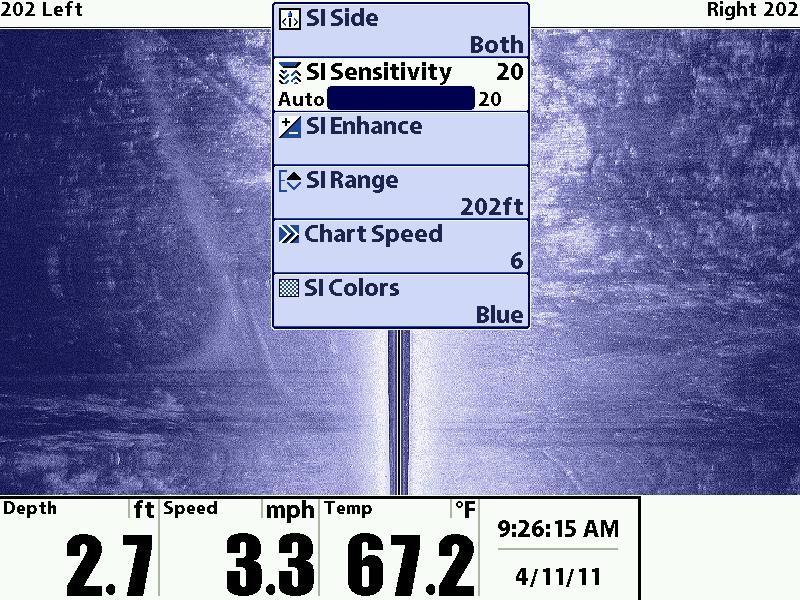 Same goes for DI. IF your shooting very deep water 150ft plus. You need to crank your sensitivity up so that it has the correct amount of power to be able to pick out intricate details that may be able help you. Do keep in mind that these high sensitivity settings are great for deep water but would be OVERKILL for shallow.
Do remember that split fire max is reccomended for water > 20ft.
Split Fire clear is reccomended for water <20ft
People ask whats the purpose of Split Fire? Well if you were with Bird or any graph company from the old days there was almost a one setting does all. Now the settings are in the hands of the user. Deeper water requires more power for the unit to see deeper. Shallower water doesn't need as much power so they are able to adjust the units to benefit both types of anglers (deep and shallow) versus one setting for all and only partially pleasing everyone. Split Fire is like a transmission in a car it changes you from one gear to another (shallow water gear and deep water gear) and then you just fine tune it with sensitivity settings as described above.
So it does take some more upfront knowledge to tune your unit BUT if you understand what each setting does and how the unit works, how the beams are laid out you will better understand why things work the way that they do and make tuning a breeze then all you have to worry about is finding the fish. TO me split fire has been the best thing to happen to Humminbird since Side Imaging.
Mike