I used to be one that wasn't a fan of fish ID. Still not in a lot of cases but in schooling fish applications I find it very important in vertical fishing. If your fishing in the middle of a big school of fish and your using say dual beam or whatever how do you tell what fish is closest to your offering but still get a "wide" view of whats under your boat. Essentially your just jigging blindly in a school of fish versus targeting a specific fish.. Bottom line is if your spoon is not at the right depth of a nearby fish it's usually not going to be as productive as being at the right depth of a nearby fish.
Use this image below for example. Orange fish are in 200khz ie narrow 20 degree beam and the other blue fish are more "off to the side" of the boat ie 83khz aka 60 degree beam . So this tells you which arch to fish for with your spoon amongst a big school of fish. I have found it to be extremely helpful in this application and surprisingly accurate that I can try to turn on a specific arch that is closest to my spoon which also makes sure that I am working my spoon at the right depth level.
Just one of the advantages that I have found favorable to FISH ID..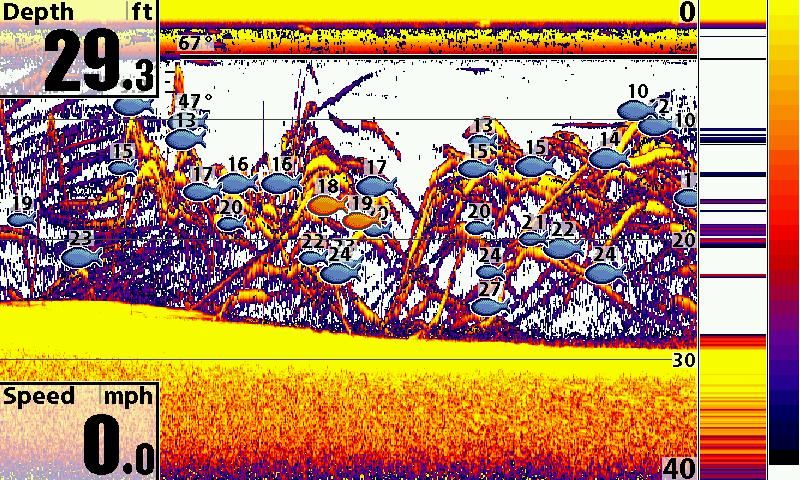 Here is the excerpt from the manual regarding FISH ID..
[img]
HEre is another shot showing what is possibly happening in the above sonar screen shot.