Re: Which Trees Would You Crappie Fish?
---
Here's the interpretation of the image...You can tell the crappie from the baitfish because of the size of the individual returns in each school. Baitfish look more like cloud and the Crappie are more singulated in the group.
Note: See how the crappie like the trees with splits, forks or branches. They like horizontal cover to hang around more than "telephone pole" trees with no branches. This is one thing I look for when hunting for suspended bass - actually why I drove by these trees to see if any bass where home - only crappie.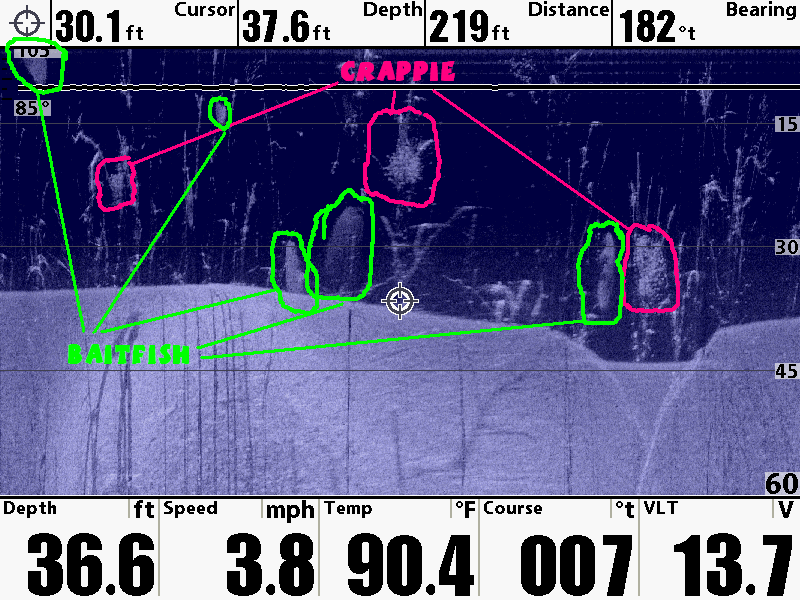 __________________

Sponsored by these fine companies: Skeeter Boats, Yamaha Outboards, MinnKota Motors & Chargers, Humminbird Electronics, Dobyn's Rods, LakeMaster Charts, Transducer Shield and Saver, LuckyCraft Lures, Daiwa Reels, Dave's Custom Baits, OMEGA Custom Tackle, BullShad Swimbaits, Elite Tungsten, Angler Innovations, Massey Ferguson Farm Equipment.
Learn more about Side Imaging: http://groups.yahoo.com/group/si