With Down Imaging you can Size Vertical Height but not length accurately. Because the length is effected by Chart Speed and Boat Speed.
Here is an example. Boat Speed was 3 and Chart Speed was at 3 in this image very close to actually how it naturally lies in the water.
Maintaining the same Boat speed and increasing the chart speed to 6 - stretches the returns. Look at how wide these treees are.
But the height remained constant in the DI images.
This is one of the cool things that is a Humminbird Exclusive with the User Ability to Control Chart Speed he can control the length of the data in DI or SI. For Examples it allows us to look inside the trees or a brush pile and look for fish and learn more about the images. But if you want to maintain the natural aspect of the data keep the Chart Speed set to the Boat Speed or Very Close.
Now the Nature of this article is to help determine fish size by the Width or Girth of the fish. I'm borrowing an image from Mike Bucca that shows Stripers/White Bass in it to show how you can guess the size.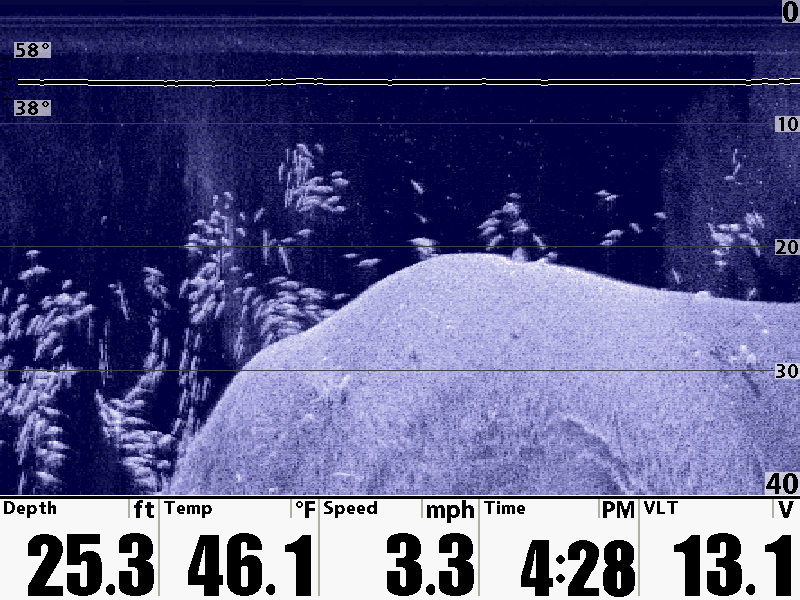 The First thing you need to do is measure between the distances of depth readings.
I have made it easy by zooming in to get the distance between the depth lines exactly on an even 50MM for 10' of Depth or 120"
So Every 5MM = 1 Foot
Or Every Millimeter = 2.4" (120" Divided by 50 = 2.4)
Next locate a fish return in the image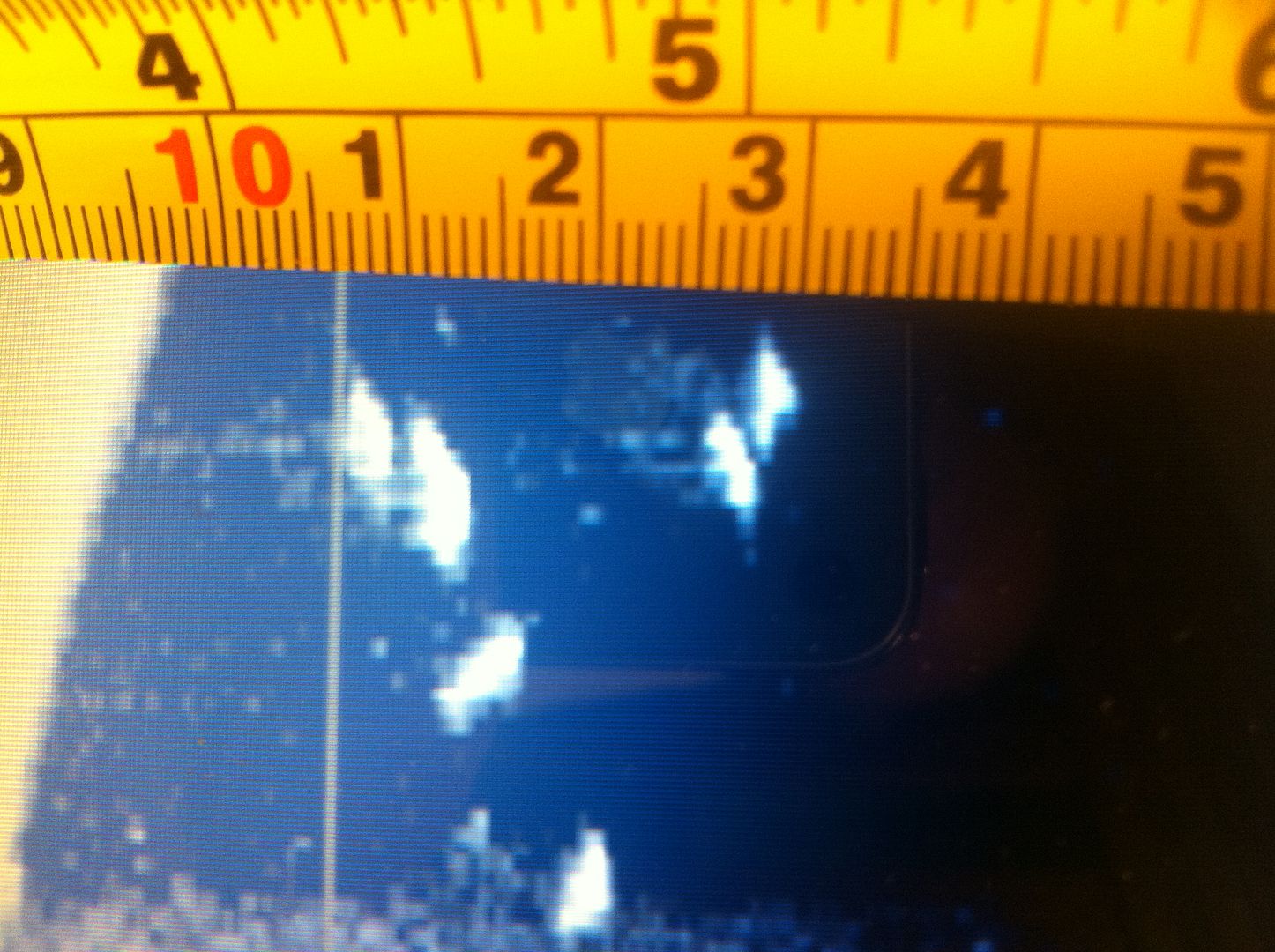 Them Measure it...
I'm starting at the 11 Centimeter Mark and this one is very close to 3MM Thick or 2.4" x 3 = 7.2" Thick
Here's another one...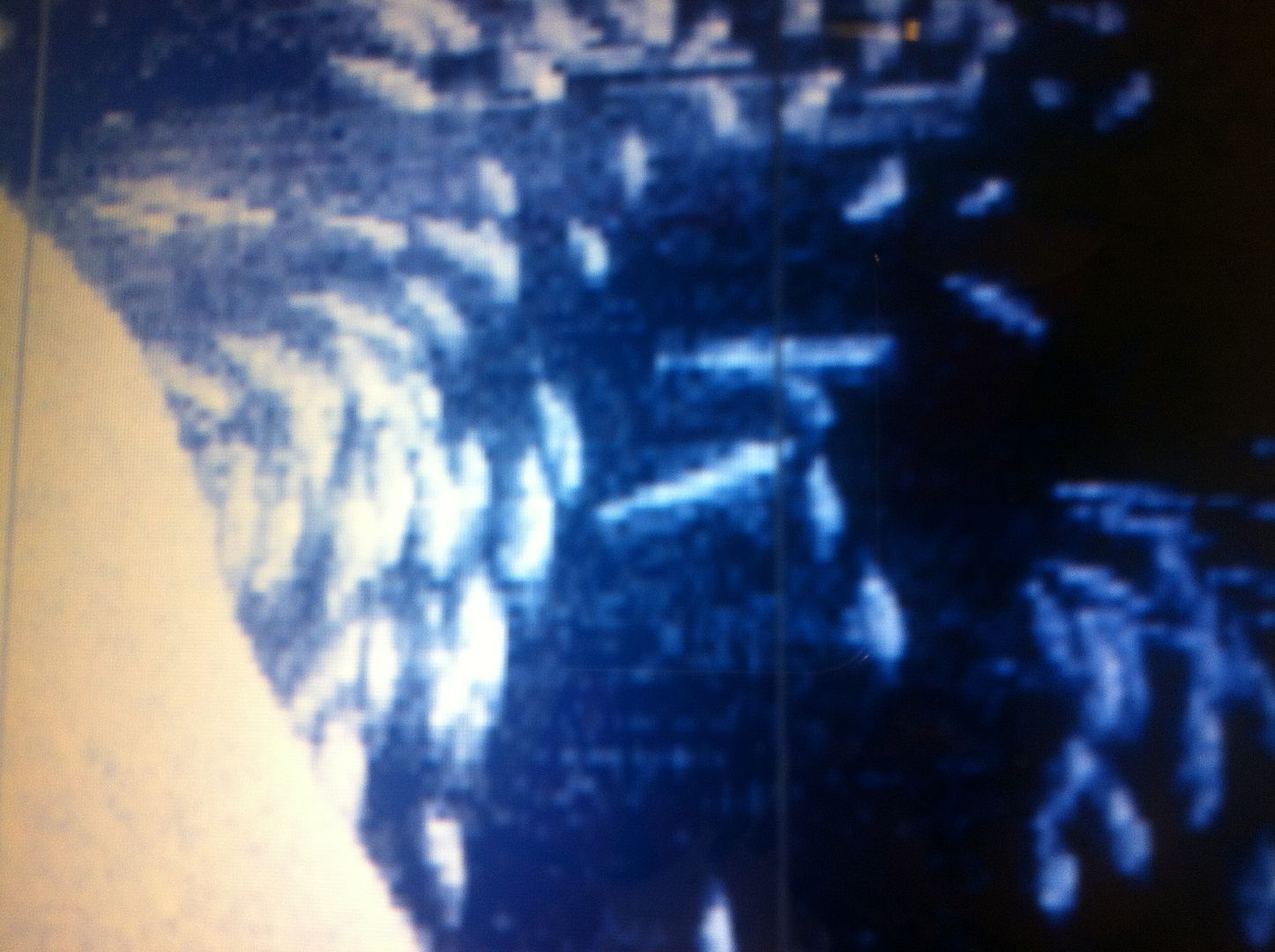 Measure the Return...
Starting at the 10 Centimeter mark it's approximately 4MM or 2.4" x 4 = 9.6"
Here's another one I choose to sample...
It's approximately 2MM or 2.4" x 2 = 4.8"
Using this you can size the different fish in the image. You don't have to get precise but using the range lines you can quickly judge the larger fish and helps in identifying the species you have found.
Here is a picture of the fish from the image being caught for an example of the true size.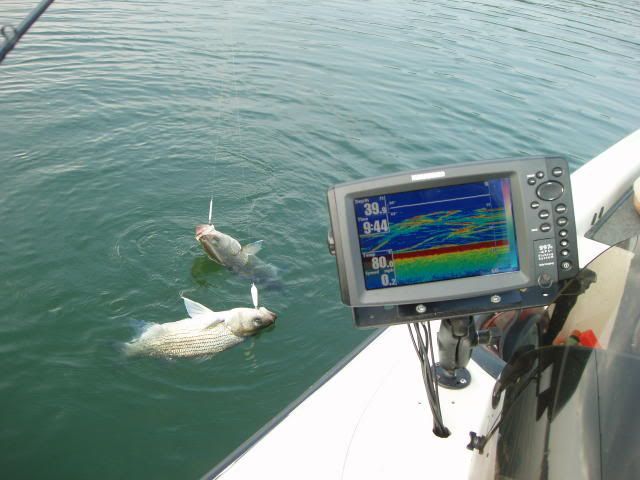 Hope this helps you learn how to take more advantage of your Humminbird and how to size fish and structure in Down Imaging.
__________________

Sponsored by these fine companies: Skeeter Boats, Yamaha Outboards, MinnKota Motors & Chargers, Humminbird Electronics, Dobyn's Rods, LakeMaster Charts, Transducer Shield and Saver, LuckyCraft Lures, Daiwa Reels, Dave's Custom Baits, OMEGA Custom Tackle, BullShad Swimbaits, Elite Tungsten, Angler Innovations, Massey Ferguson Farm Equipment.
Learn more about Side Imaging: http://groups.yahoo.com/group/si