Angl-ing Insight
A Twenty-Something, Grassroots Approach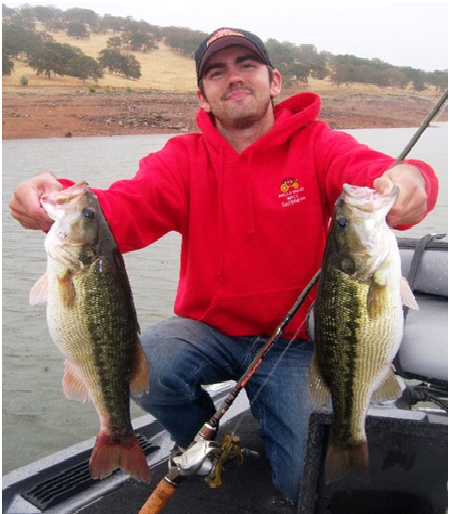 7/13/2011
Calbassin.com
by Wes Roberson  
Angl-ing Insight with Dustin Tacker
Q1: What is your Name and age?
A1: My name is Dustin Tacker and I am 25 years old.
Q2: How many years have you been fishing?
A2: I have been fishing for 22 years.
Q3: How many years have you been fishing tournaments?
A3: I fished tournaments with my dad when I was 3 years
old! In recent years I have been fishing tournaments
out of the front of my boat for 4 years.
Q4: Who are your sponsors?
A4: My sponsors are Dobyns Rods & Limit Lures. I
couldn't ask for better sponsors. I remember when I
was 16 years old in high school, I had a "What do you
want to be when you grow-up" school project. All I
wanted to do was to fish for a living. To make a long
story short, Gary Dobyns came to my high
school and took me out to lunch to talk fishing and
provide me with information for my project. Yes, Gary
Dobyns is that nice of a guy; the whole Dobyns family
for that matter are great people. Meeting Gary had a
lasting impression on me and I made an effort to stay
in contact with him throughout the years to come.
[IMG]
Q5: What is your ride (Boat & Tow Vehicle)?
A5: I am rocking a 2000 "Stay Gold", GMC Safari as my tow vehicle. My boat is a
2000 Champion 181 with an Optimax 150.
Q6: What Circuits do you fish?
A6: Currently only the CBC.
Q7: What are your best top 5 finishes?
A7: My best top five finishes are: 1st place at CBAF Toys for Troops (Delta), 1st
Tracy Bass (Delta), 2nd Future Pro Tour (Folsom), 2nd CBAF Honor Bound
(Folsom), and CBC Qualifier.
Q8: Single/Married?
A8: Single life, dude!
Q9: Favorite type of music?
A9: Aggressive Traditional Hardcore  
Q10: What is your home lake and how
many years have you been fishing
it?
A10: Through adolescence my home lake
was Oroville for 10 years.
Q11: What is your favorite body of water
and why?
A11: I like all lakes and the opportunity to
do something different, but Clear
Lake is definitely at the top.
Q12: What do you hope to attain in
tournament fishing (what is your
dream goal)?
A12: I want to be the guy that others see
at a tournament and they do not want
to fish against that person. I want to
fish for a living. Whether it is
tournament fishing, guiding or a TV
show.
[IMG]
Q13: What are the biggest challenges you as young tournament angler?
A13: My biggest challenge with respect to tournament fish is definitely money. I
do not receive any assistance from my parents with fishing.
Q14: What do tournament circuits need to do more of in your opinion?
A14: I honestly do not know. There are so many tournaments doing different
things and the anglers are just not responding.
Q15: What is your favorite moment fishing in a tournament?
A15: I was fishing a Delta tournament with my friend David Pearl. It was our first
tournament together. We had a good limit by 10:00am and we felt
confident that we had the tournament won. I throw back behind a tulle
patch with a spinner bait and my rod loads up. David asks me if I have a
fish on. At that point I said yes but I did not realize what was going to
happen next. The fish then heads out immediately for deep water. At this
point in time I had not seen her yet. I am running around the boat yelling
for David to get the net, when all of a sudden this leviathan breaches the
surface. It is a giant! As I am frantically fighting this fish on relatively light
gear, David points out a major problem with the net situation. The net has a
spook wrapped up in it to the point where the net's webbing is matted up.
Even more problematic is the fact that the spook is still attach to line, rod
and a reel for that matter. David hits free spool on the reel and it grenades
the reel. Meanwhile I am scrambling around the boat with this fish.
Somehow David manages to get the net untangled enough to scoop the
8.5lb beast that anchored our 25lb limit and solidified our 1st place win. It
was crazy.
Q16: If you had a go to set-up, what would it be?
A16: My go to set would have to be a Dobyns 743 Extreme Spinning Rod,
spooled with 6lb P Line Halo. The rod is perfect for senkos, dartheads, and
tubes.
Q17: What is your preferred style of fishing (Power, finesse, top-water, etc.)?
A17: Junk fishing. I like catching ten different fish on 5 different baits. Ripping is
also at the top of my list.
Q18: If you could change anything about the NorCal fishing scene what would it
be?
A18: I definitely would like to see more people fishing more tournaments. This
year we have really seen the how the economy has effected tournament
participation.
Q19: It is 12:00pm. There are no fish in your live well. What do you do?
A19: I plan to do the same thing I would have done at 12:00pm and my livewell
was full.
Q20: What technique do you wish you were better at and why?
Q20: I wish I was better at fishing deeper than 50 feet.
Q21: What is it most that you love about bass fishing?
A21: I love how in bass fishing you always have to do something different to
adapt and catch fish.
Q22: What do you like better (Teams or Pro-Ams) and why?
Q22: I would have to say I like teams better because I have never fished a Pro-
Am.
Q23: What your worst tournament experience and why?
Q23: My worst experience in a tournament was at the CBC qualifier at Bullards
Bar this year. I did not pre-fish which didn't help. Throughout the day I
hooked into eight good fish. I got all of them half way to the boat and all of
them just came off. It just wasn't my day.
Q24: What advice would you give
someone starting out in tournament
fishing?
A24: Fish as much as you can while
tournaments are going on. There is
no replacement for time spent on the
water. The more experience you
have the more you can learn from it.
Q25: What is the next step in your fishing
career?
A25: I am going to Fish harder and more. I
want to fish as a pro in the next two
years.
Q26: Who are your tournament partners?
A26: None
[IMG]
Q27: Who inspires you in the fishing industry and why?
A27: The three bass fisherman that inspire me the most are: Clay Dyer for his
self determination and perseverance, Takahiro Omori for his ultimate
sacrifice to chase his dream, and Jarrett Edwards because he gets to fish
all day while we have to go to our jobs.
Q28: What are your goals for the 2012 Season?
A28: I want to fish more tournaments, but at this point in time I do not know what
each circuit is offering.
Q29: When you are not fish, what are your other passions?
A29: My other passions are music, hot rods and going to the gym.
Q30: If there was a lake that you could avoid ever going back to, what lake would
it be and why?
Q30: I would have to say Lake Berryessa because I have had horrible
tournament finishes there.
Q31 Omitted
Q32: If you were forced to take just one set-up and go to just one body of water
for a week, what set up would that be and what body of water?
Q32: I would take my Dobyns 704 CB rod paired with a Shimano Curado spooled
with 10lb P Line Halo and for that entire week I would throw ripbaits at
Oroville until my hands fall off.
Q33: Do you have any pre- Tournament
Superstitions?
A33: I set my alarm clock for odd
numbers (i.e. 5:29am).
Q34: What do you think is the next big
thing in bass fishing?
A34: I do not pay enough attention to
trends.
Q35: Lastly who do you think is the next
person to look out for in the NorCal
tournament scene and why?
A35: Bryant Smith. He is good and he
fishes really hard. He definitely
puts his time in.
[IMG]
Q36: Is there anybody you want to thank?
A36: I would like to thank my family, the entire Dobyns family, Stretch from Limit
Lures, Ron Brown, Phil Clark and everyone else I fish with.